Reliable & Affordable Transponder Car Keys Programming Services in Texas, Call Us for Assistance!
It can be a frustrating experience to find yourself locked out of your vehicle with no spare key around. In this situation, you can count on WOW Locks for new transponder car keys solutions in Texas.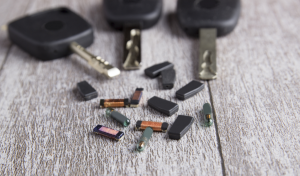 As your reliable automotive locksmith partner, we understand that it is important for you to get back on the road and hence, offer 24/7 emergency assistance to our customers. Furthermore, we also offer professional assistance to your doorstep so that you don't have to come to us, where our team will come to your location and deal with the problem in no time.
At WOW Locks, we also provide emergency locksmith services in case you are locked out of your house, office or car at odd hours. Our technicians will reach your location quickly, assess the situation, and provide a convenient solution for you at affordable prices.
All You Need To Know About Transponder Keys:
If you are a car owner, then you will be familiar with the term "transponder key". If not, then here's something for you:
Transponder car keys are automobile keys that come with an additional feature of an RFID chip embedded inside them. This chip is responsible for disabling or enabling your car's ignition system. The car will only start when it reads the right signal emitted by the chip.
But How do Transponder Keys Work?
The transponder car keys come with an embedded microchip known as RFID (Radio Frequency Identifier). This microchip is responsible for transmitting a low-range radio frequency signal to the receiver that is attached to the car's computer unit.
Once it receives a valid signal from your key, the car's computer unit will enable the ignition system thereby allowing you to start your engine and drive your car. When you insert an invalid or damaged key in your ignition lock, then it won't transmit any frequency signal.
In such a case, your car simply won't start and you need to get a transponder key replacement done.
Benefits of using Transponder Car Keys:
There are reasons why it's more important to upgrade to a more advanced security system as transponder keys offer certain benefits like –
Durability
If you're worried about durability, don't be! Transponder keys are just as tough as your regular metal car keys, if not more so.
Less Maintainance
They require less maintenance than traditional keys, which means you can enjoy them for much longer without having to replace them any time soon!
Easy to use
Transponder keys are extremely easy to use and accessible at all times—you'll have peace of mind knowing that your car is always protected against even the most technologically savvy intruders out there.
Protection
And finally, the most important reason to use a transponder key: security! If you lose your car key and someone finds it, they won't be able to use it without the matching serial code.
WOW Locks – Your Trusted Transponder Car Key Expert
It is so stressful to be locked out of the car. You might have forgotten the keys in the car or they might be broken. Most of the time, you are not sure what to do. If you are looking for a professional service provider in your area, WOW Locks is here to help you.
At WOW Locks, our professional services are one of the leading service providers in your local area ensuring peace of mind when you need it.
Most of the modern vehicles out there in the market require transponder keys to function properly. For that, our professional team provides you with high-quality products that can unlock your car door without damaging the locks or leaving any marks on your vehicle.
With specialized tools and equipment, our team provides services that can unlock any type of vehicle door with ease!
We believe in providing high-quality locksmith services all across the Austin and Texas areas making us a trusted name in your local area for all types of automotive lockouts and replacement needs. We believe in providing quick services 24/7 so that you can get back on road as soon as possible.
Why go for WOW Locks?
At WOW Locks, we put your safety at the heart of what we do. Our years of experience dealing and practicing with locks have allowed us to become a leader in Austin and Dallas area when it comes to locksmith services – whether residential, commercial, or automotive.
Our trained experts are our state-of-the-art training facility and are equipped with the necessary gear and technology to provide exceptional services on-site at flat-rate pricing.
Our clients love us for –
24/7 certified services
Quick response time
Competitive pricing
Knowledgable, experienced, and skilled experts
Satisfaction guaranteed
State-of-the-art equipment
High-security solutions
Top-notch product brands
Our doors are always open:
It can be hard finding a great automotive locksmith that you can trust. WOW Locks is the recommended company by many residents in Austin and Dallas area you need in your contacts list.
Transponder keys are very challenging to pick as they require specific equipment and skills. Since they are used by famous brands, they are often expensive to replace when lost or stolen. Need not worry!
Our network of highly trained professionals at WOW Locks has experience in creating, duplicating, and programming these high-security keys. If your car key is misplaced or requires a copy, you can trust us on that.
Indeed, we stand by all our work, so you can rest assured that you are getting the best service for a competitive price. We do the heavy lifting. Free you up to spend your time doing more important tasks!
One call does it all:
Simply give us a call at (844) 969-5625 for a quick response or Click Here to request a service online.