Prevent car theft with Laser cut car keys today, Call us for professional assistance!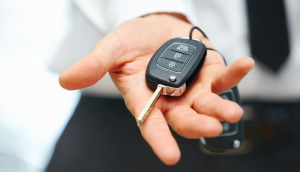 Since the introduction of the laser cut key, car theft has been on the decline by more than 20%. The reason being is that laser keys are incredibly difficult to duplicate without the proper equipment. It is nearly impossible to duplicate a laser-cut key without having access to a laser-cutting machine and software.
Got locked out of your car? Lost your keys?
If you have ever locked yourself out of your car and wondered what the best solution is for getting back into it, a laser-cut car key may be the answer.
The laser cutting process is the most advanced type of key cutting available. With the help of a precision piece of machinery, a laser-cut key is made to provide maximum levels of security and protection. Commonly, these keys are referred to as 'sidewinder' or 'double-sided keys'.
What is a Laser cut key?
A laser-cut key provides a unique security feature that is different from other types of car keys. The distinguishing factor of these keys is their unique blade. The blade has been designed to prevent bumping, which is a method used by burglars to gain access to cars without actually having a key.
The laser-cut key is the best type of security protection for your vehicle because it is extremely difficult to reproduce without the correct code or equipment. If you want to ensure your vehicle is well protected, then you should get it produced and programmed by an authorized locksmith.
Which is better – Traditional or Laser cut keys?
There are two kinds of car keys – Traditional flat-bladed keys and Laser cut keys. Both of these function in different ways. But what exactly is the difference? Let's understand here:
Traditional flat-bladed keys
These have a unique cutout pattern on each side of the blade (the metal portion of the key). These cuts are what allow it to lock and unlock your vehicle's door, as well as its ignition system. With a traditional key, you will notice that there are many grooves and notches along the top edge and bottom edge of the key's blade.
This is what allows it to be inserted and turned within your vehicle's lock system. The shape and number of cuts, notches, and grooves on these types of keys are what allow them to work so uniquely for each vehicle make/model.
Laser-cut keys
On the other hand, laser-cut keys do not have any cuts or grooves along their top or bottom edges. Instead, these types of car keys have unique cuts that run down the middle of the blade (from end to end). Since they are "laser" cut, there is an extremely fine line that runs down the entire length of the key's blade. This is what allows this type of key to work with your car's lock system and ignition.
Unlike traditional flat-bladed keys, laser-cut keys are slightly thicker (about twice as thick) than traditional flat-bladed keys. As such, you will notice that laser-cut keys also tend to be much heavier in weight compared to traditional flat-bladed keys. They are also harder to duplicate; however, they can still be duplicated by a trained locksmith in most cases.
WOW Locks: Your Reliable Automotive Locksmith Partner
At WOW Locks, we understand that your vehicle is important to you. It's a necessity for work and family. That's why we offer fast, reliable automotive locksmith services. From laser-cut car keys to ignition repair, we have the required expertise to work with any make or model vehicle in an efficient manner.
No matter whether you own a Jaguar or a Jeep, simply count on our certified locksmiths to fulfill your needs.  If your car key is misplaced or requires a copy, you can trust our laser key cutter to get the job done quickly and correctly.
Some of our most popular automotive locksmith services include:
Lockout situations
Ignition lock repair
Transponder key programming
Key duplication and replacement
Broken key removal and more
If you need a professional locksmith for your vehicle, be sure to get in touch with us today. Our locksmiths are certified and rely on many of the industry's top-quality products to serve you.
Remember, we also feature 24/7 emergency service, so never hesitate to call us when you need us even on holidays or weekends.
Why go for WOW Locks?
At WOW Locks, we put your safety at the heart of what we do. Our years of experience dealing and practicing with locks have allowed us to become a leader in Austin and Dallas area when it comes to locksmith services – whether residential, commercial, or automotive.
Our trained experts are our state-of-the-art training facility and are equipped with the necessary gear and technology to provide exceptional services on-site at flat-rate pricing.
Our clients love us for –
24/7 certified services
Quick response time
Competitive pricing
Knowledgable, experienced, and skilled experts
Satisfaction guaranteed
State-of-the-art equipment
High-security solutions
Top-notch product brands
Our doors are always open:
It can be hard finding a great automotive locksmith that you can trust. WOW Locks is the recommended company by many residents in Austin and Dallas area you need in your contacts list.
Laser-cut keys are very challenging to duplicate as they require specific equipment and skills. Since they are used by famous brands, they are often expensive to replace when lost or stolen. Need not worry!
Our network of highly trained professionals at WOW Locks has experience in creating, duplicating, and programming these high-security keys. If your car key is misplaced or requires a copy, you can trust a laser key.
Indeed, we stand by all our work, so you can rest assured that you are getting the best service for a competitive price. We do the heavy lifting. Free you up to spend your time doing more important tasks!
One call does it all:
Simply give us a call at (844) 969-5625 for a quick response or Click Here to request a service online.