Get the Best Mailbox Lockout Solution in Texas today, Call us for Professional Assistance!
Imagine this: it's a hot summer day, and you just got home from work. It's been a long day—all you want to do is take off your shoes, put your feet up on the coffee table, and watch some reality TV.
But then, you remember that you've been waiting for a package to arrive today. You're excited to open it because it's something that you ordered for a friend as a birthday present.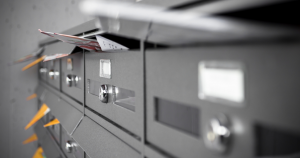 You go to the mailbox to see if it has arrived yet. You get there, open the mailbox… and the package isn't there. How could that be? It was supposed to arrive today!
Then you see the sticky note on the outside of the mailbox: "Out of order."
What now?
It happens: sometimes people forget to take their keys with them when they leave their house, or they accidentally leave them in their car for days without realizing it. Before you know it, your keys are gone, and your mailbox is locked uptight.
And until someone can help you retrieve your lost keys or help you break into your mailbox, you're going to have to wait to receive any important mail or packages.
Locked out of your mailbox? WOW Locks is here!
Your mailbox is a basic requirement for every household in Texas. It holds all your important letters and parcels and makes sure these parcels are protected from external weather. But there are frequent problems that might occur with a mailbox that requires the assistance of a locksmith for repair.
A mailbox lock plays an important role in securing your mail, but it can also cause you inconvenience by putting you through a situation of Mailbox lockout. This can happen due to various reasons, including:
The lock has been damaged or broken.
The key has been lost or misplaced.
There's a problem with the locking mechanism.
The lock has become rusty over time, making it impossible to open using the key.
The above are just some of the most common reasons why people get locked out of their mailboxes, and they can be frustrating when Mailbox lockouts happen on weekends or holidays when the post office is closed.
Whatever the case may be, it's OK—you've come to the right place.
Fortunately, there's an easy solution: call WOW Locks today for professional assistance. Our team of licensed locksmiths can help you regain access to your mailbox quickly and affordably, so you don't have to wait until Monday morning before you can collect your new packages!
24/7 Emergency Services at WOW Locks:
At WOW Locks, we understand how much you depend on your mailbox to receive and send important letters and parcels. That's why we work tirelessly 24/7 to provide you with an efficient service to ensure there is no disruption to your mailbox needs.
Our residential locksmiths have been providing professional locksmithing services for years, which has given us a wealth of experience in dealing with all sorts of mailbox issues.
Thus, we can help you out whether your mailbox lock is broken or jammed, or if the key has broken off in the lock.
Alongside, we cover all types of mailboxes, including
Cluster mailboxes
Private residential mailboxes
Commercial mailboxes
And if your mailbox has been vandalized, we can change the entire box for you so that this does not happen again in the future.
Why go for WOW Locks?
At WOW Locks, we put your safety at the heart of what we do. Our years of experience dealing and practicing with locks have allowed us to become a leader in Austin and Dallas area when it comes to locksmith services – whether residential, commercial, or automotive.
Our trained experts are our state-of-the-art training facility and are equipped with the necessary gear and technology to provide exceptional services on-site at flat-rate pricing. As they are mobile and situated strategically across town, they can reach you within no time.
Our clients love us for –
24/7 certified services
Quick response time
Competitive pricing
Knowledgable, experienced, and skilled experts
Satisfaction guaranteed
State-of-the-art equipment
High-security solutions
Top-notch product brands
Our doors are always open:
It can be hard finding a great locksmith service that you can trust. WOW Locks is the recommended company by many residents in Austin and Dallas areas you need in your contacts list. Our 24/7 emergency locksmith services will help you to protect what you value most even.
Mailbox lockout not only slows down your mail delivery, but it can also make your mailbox look unkempt, which will bring the overall look of your sweet home. Here, we are trusted by individuals and homeowners to ensure their 100% safety.
If you're experiencing a mailbox lockout, you need us who can come in and fix the problem quickly which is the most rewarding part of our job when our customers need us. If you are locked out of your mailbox, contact us immediately, 24/7. We will reach you as fast as possible without fail with ultimate solutions in no time.
Our experts will take care of everything for you—and at a rate that won't break the bank. We strive to provide the best security service possible for your home or workplace, so get in touch with us today to see how we can help you!
One call does it all:
Simply give us a call at (844) 969-5625 for a quick response or Click Here to request a service online.