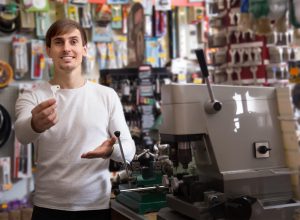 Do you own a business? Are you looking for some lock repair or lock replacement services? Are you in need of office lock installation? At WOW Locks, our well-trained, skillful, and licensed technicians offer every locksmith service you may need for your commerce facility. Count on us for all flat-rate commercial locksmith services in Texas, from high-security lock installation to digital lock repair.
We understand the individual needs of our clients & work collaboratively to achieve measurable results. We would welcome the opportunity to meet with your staff to outline the needs & expectations of your organization to form a comprehensive strategy that suits your needs.
We understand that every client's needs are different. One size does not fit all. So, we give flat prices and provide customized locksmith services in Texas.
Our Flat-Rate Commercial Locksmith Services in Texas
We are a trustworthy locksmith that is the key to our business success. Whether you run a large manufacturing facility or own a small firm, you deserve the best-in-class services.
At WOW Locks, we focus on commercial locksmith projects and strive to deliver outstanding services. We provide services following high industry standards for all our projects.
We mainly provide the following commercial locksmith services:
Alarm Locks
Also known as access control systems, our alarm locks ensure high durability, reliability, and versatility in our products. We are a leader in access control solutions for commercial as well as other facilities in the region. We can troubleshoot, repair, replace, reprogram and install high-end alarm locks on various doors.
Card Access & Keypads
Commercial buildings are increasing using keypads, access cards, and other access control systems. These systems are becoming even more advanced, adding more useful and secure features for business owners. With a card access control system, you can access restrict access to your premises. You can even restrict access to particular times of the day. Also, with these systems, you can record logs of employees who attempt to enter late. We will install, repair, and replace card access to your facility. We will even train you and your staff on using these systems.
Key Fob Systems
An increasing number of businesses use access cards and Key FOBs to achieve a better level of security. These devices also help ensure a user-friendly experience for particular authorized individuals. Some businesses want to restrict access to certain areas for different purposes, such as protecting data, supplies, and even people.
If your commercial access and security systems are not updated, WOW Locks will help install, repair, and replace these devices at your place.
The safety of your business is important for its overall success. You have to ensure that your employees can seamlessly access your facilities. At the same time, you have to ensure that your business is protected from intruders. As your business grows, it's important to increase the security level within your organization. A wise option that many businesses are benefiting from is our fob systems, card access, and keypad locks.
Smart Lock Installation
At WOW Locks, we aim to provide high-quality and innovative security services to business owners and residential clients. Every member of our team is certified, licensed, and experienced. We are proficient in an extensive range of security and locksmith technologies.
We work closely with every customer to design a comprehensive and tailored security solution that fits your unique needs.
Commercial Lockouts
As a business owner, things like a lockout can be frustrating. When you get locked out of your business, this can hurt your business profits, cause damage to your brand reputation, and can harm your customer relationships. So, when you get locked out of your office, WOW Lock can address the issue.
Being a reliable commercial locksmith in Texas, our emergency service team becomes available to respond to commercial lockouts 24/7.
We are a team of professionally-trained, expert locksmiths. We can open almost any lock, including mortise locks and deadbolts, without damaging the door, lock, or hardware. When you contact us for our emergency response service, we'll get your business operational fast while helping you minimize any lost productivity.
File Cabinet Locks & Keys
Office desks and file cabinets with locks secure your keep sensitive or proprietary documents safe and secure. Unfortunately, it's all quite easy to lose the keys to these locks.
At WOW Lock, we can create a brand new key that opens the lock without dispatching a locksmith to your location. These locks work based on a code, and we use that code to create a factory-cut copy of the key for these locks. It makes a simple, inexpensive, and effective way to secure your drawers and file cabinets.
We can email the code with proper instructions about how to use it. We also provide locks for various file cabinets and desks with broken or missing lock systems or keys.
We can replace file cabinets and desk locks with ones that are suited for almost any application. Give our commercial locksmiths a call to help secure your office file cabinets and desks.
Safe Installation & Repair
Safes are available in various sizes and shapes. At WOW Lock, we help you with a wide range of safe services, such as safe opening, cracking installation, and safe moving.
We have experience offering safe installation, replacement, and repair services for all kinds of commercial uses. These include bank vaults, gun safes, safety deposit boxes, and document safes.
The WOW Locks team uses proven safe opening and repair techniques to keep them working safely and even more efficiently. It makes our services unparalleled and unmatched in the locksmith industry. So, if you have a troublesome safe, then call us for quick assistance.
In addition to these services, we also deal in security camera systems, rekeying, preventive maintenance, padlocks, and many more.
Contact WOW Lock Commercial Locksmith in Texas NOW!
Are you looking for locksmithing services for your office or commercial facility? At WOW Locks, we get you covered, 24 hours a day, 365 days a year!
Our well-trained and licensed technicians are fully insured. We are experienced at handling a wide range of commercial locksmith needs.
So, call us today to discuss your needs, and get a no-obligation quote.