Install electric strike locks in your commercial space today with WOW Locks, Call us!
With the advent of technology, electronic and electric strike locks have become the new favorite of the people, especially in the workplace where security is very highly crucial. Employers need to ensure that their employees, clients, and workplace are safe and secure.
One of the steps in this process is to install a proper locking system. Also, the doors should be accessible to visitors, employees, and clients. For this, an electric strike lock is the best way to solve these issues. Electric strike locks can be added to any locking system like cylindrical locks, deadbolt locks, or mortise locks.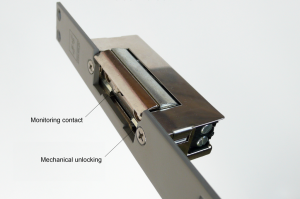 Electric strike locks are not just sturdy they are also simple and easy to use. The system works on electricity and has an external switch to open or close it when required. The device has a metal frame that holds back the latch by connecting it with a solenoid which is powered by electricity. The device is placed on the door frame and when power is supplied, the door opens up for you.
Types of Electric Strike Locks
There are various kinds of electric strike locks that you can select from. You can get the following electric locks from WOW, Locks:
Electric strikes for narrow stile doors
Electric strikes for single doors
Electric strikes for double doors
Electric strikes for fire-rated doors
Wireless electric locks
Single magnetic locks
Double magnetic locks
You can also manage multiple doors with one device and restrict access to certain rooms if you wish to. In terms of security, this locking system is effective because once the door is closed it cannot be opened from outside even if someone removes the outer knob or breaks it down.
Other than this, there are several benefits associated with using electric strike locks for your commercial building. Let's take a look at some of them-
Easy to use – As mentioned above, these locks are easily programmable and can be used in conjunction with cards, keys, or keypads. They also come with a panic bar that allows the door to open easily in case of an emergency.
Great security – These electric strike locks provide great security against forced entry or burglary because they come with a good quality metal that is sturdy and strong enough to resist any forced entry methods such as kick-ins or drilling into the lock.
No more unnecessary costs – As there is no need for inserting keys into the lock, there is no breakage of keys or any damage caused due to repeated insertion and removal of keys from the lock. This makes electronic locks more durable than conventional
WOW Locks: Your Reliable Lock Installation Expert
Electric Strike Locks are durable, reliable, and cost-effective when compared to other locking systems. If you want to install electric strike locks in your home or office, then WOW Locks is the right choice for you. We provide quality service with a smile within minutes of your call anywhere in the Austin and Dallas areas.
At WOW Locks, we operate locally offering quick and quality service for all your commercial locksmith requirements. It is understood how difficult it is to determine whether it's just a simple fix or if you need to call in a professional for assistance.
Thus, we advise you to be cautious and not try to repair an electric strike lock on your own—in fact, with most electronic locks, it's best to leave it up to professionals else it may lead further to heavy investments.
Here, our commercial locksmiths are ready to help when you need us. When you call us for help with an electric strike locks repair, our team will quickly arrive and have the right tools and experience necessary to fix the problem in no time. We can quickly diagnose problems and will get your doors back into working order fast!
Why go for WOW Locks?
At WOW Locks, we put your safety at the heart of what we do. Our years of experience dealing and practicing with locks have allowed us to become a leader in Austin and Dallas area when it comes to locksmith services – whether residential, commercial, or automotive.
Our trained experts are our state-of-the-art training facility and are equipped with the necessary gear and technology to provide exceptional services on-site at flat-rate pricing.
Our clients love us for –
24/7 certified services
Quick response time
Competitive pricing
Knowledgable, experienced, and skilled experts
Satisfaction guaranteed
State-of-the-art equipment
High-security solutions
Top-notch product brands
Here, we are trusted by many local businesses for our ultimate choice of Electric strike locks. We have been installing, replacing, and maintaining these locks for many years with the required expertise.
Our doors are always open:
It can be hard finding a great locksmith service that you can trust. WOW Locks is the recommended company by many residents in Austin and Dallas area you need in your contacts list. Our 24/7 emergency locksmith services will help you to protect what you value most.
If your electric strike lock isn't working, you're probably feeling frustrated. You need to get your door open so you can get back to work and out of the cold or rain. For that, we are always here!
We employ skilled technicians who know how to fix electric strike locks and get you on your way again. No matter what's gone wrong with your lock, they'll have the tools and equipment they need to solve the problem and make sure it stays fixed.
No job is too big for us! We're not novices when it comes to locks, security systems, and other related issues.
Undoubtedly, we are dedicated to providing the highest quality Magnetic locks at affordable prices. We will match or beat any competitor's price to save you time and money.
One call does it all:
Simply give us a call at (844) 969-5625 for a quick response or Click Here to request a service online.