Don't let a broken lock put your sweet home in danger. Contact us to get it fixed today!
Many people have an aversion to keys – they can be lost or stolen, and you never know who might have a copy of your keys. So the best way to avoid this problem is to install keyless deadbolts on your door.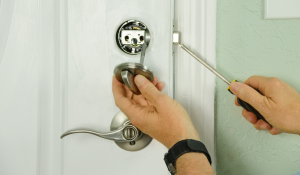 No doubt, these are a great choice because they don't have a keyhole, so no one can pick them or drill them. This type of lock is also much easier to install than a traditional deadbolt, which makes it a good choice if you are planning to install it yourself. If you're looking into getting a new door lock, consider installing one of these keyless types.
Such locks are becoming more popular nowadays, as people search for a way to make their homes safer!
How do keyless deadbolts operate?
Keyless deadbolts work using a set of codes or numbers so that you can secure your doors without having to worry about losing keys.
The code can be entered via a keypad or by using a remote control, and this will cause the bolt to either lock or unlock.
It is mainly used for doors that are used frequently as it means you will not have to keep searching for your keys in your pockets or purse.
WOW Locks: The Local Keyless Experts
Homeowners are flocking to us. Such a pleasure!
At WOW Locks,
our experts are experienced in installing and repairing keyless deadlocks. If you are moving into a new home, you can seek our assistance to set up a new deadlock for your home. Along with installation, we offer repair services for the deadlocks as well.
Proudly saying, we are renowned for offering the best lock setup services in the city. Our locksmiths have several years of experience in dealing with different types of locks and can have your deadlock installed in no time flat.
Our locksmiths can offer repair and installation services for your sweet home to ensure the complete protection of your family members. If you require urgent assistance, we can reach your location within a short time frame.
Note – We use only high-quality deadbolts and keys that offer the best security available in Austin and Dallas areas.
Top benefits of using Keyless Deadbolts:
Keyless deadbolts are more secure than traditional keyed locks, as they make it difficult for hackers to pick your lock, and they add an extra layer of security because they can't be picked or bumped.
They offer more benefits than keyed deadbolts. Some of the benefits include:
Easy to Install
The mechanical keyless deadbolts are fairly easy to install. All you need is a screwdriver and some screws that are included in the package when you purchase them from the store.
Fingerprint technology
The fingerprint technology allows you to program your door so that only certain people can get into your house or office. You can also set up the system so that you don't have to use a key or a code to unlock your door. This will make it easier for you to get into your house and office without having to worry about someone breaking in.
Easy to Use
If you have ever been locked out of your house because you forgot your keys somewhere, then you know how frustrating it is. With a keyless deadbolt, you will never have to deal with this problem again. All you need is a code to get inside your house instead of a key.
More Convenient 
The keyless deadbolt is easier than its predecessor because it can be used by many people.  For example, if you want your kids to get in and out of the house whenever they want, all they will need is an access code to enter and leave the house at any time they want.
Authorized access
Keyless deadbolt locks offer easy access as you need not worry about losing keys or even being locked out of your house. You will also not be required to worry about the keys getting stolen or duplicated by someone. All you will have to do is enter your PIN-code and unlock the door easily.
Why go for WOW Locks?
At WOW Locks, we put your safety at the heart of what we do. Our years of experience dealing and practicing with locks have allowed us to become a leader in Austin and Dallas area when it comes to locksmith services – whether residential, commercial, or automotive.
Our trained experts are our state-of-the-art training facility and are equipped with the necessary gear and technology to provide exceptional services on-site at flat-rate pricing.
Our clients love us for –
24/7 certified services
Quick response time
Competitive pricing
Knowledgable, experienced, and skilled experts
Satisfaction guaranteed
State-of-the-art equipment
High-security solutions
Top-notch product brands
Here, we are trusted by individuals and homeowners for the choice of keyless deadbolts and other security systems. We have been installing, replacing, and maintaining all kinds of locks for many years with the required expertise.
We stand by all our work, so you can rest assured that you are getting the best service for a competitive price!
Our doors are always open:
It can be hard finding a great locksmith service that you can trust. WOW Locks is the recommended company by many residents in Austin and Dallas area you need in your contacts list. Our 24/7 emergency locksmith services will help you to protect what you value most.
Whether it's Deadbolt, Manual, Keyless, or high-tech lock, being there for our customer's security is the most rewarding part of our job. No job is too big for us!
Our residential locksmiths will address any of your security issues and give you high-quality keyless deadbolts for your residential property. We offer homeowners an innovative security solution to deter crime using the latest in lock technology.
One call does it all:
Simply give us a call at (844) 969-5625 for a quick response or Click Here to request a service online.