Stay safe & secure with our Burglary damage repair solutions in Texas, Call Us for Assistance!
You no longer have to worry about missing, hiding, sharing, or losing your keys. All you need is a code for a successful entry to your home. Apart from providing easy access, keyless entry locks are safer and offer more control over who enters the house and when.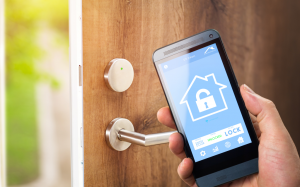 At WOW Locks, our keyless systems are ideal for any property that needs extra security such as private homes, apartment complexes, villas, bungalows, or societies. We offer advanced digital lock systems and other keyless solutions including card readers, swipe cards, biometric readers, etc along with repairs and maintenance of some of the most advanced keyless entry systems in the market.
At WOW Locks, we provide our customers with top-notch keyless entry locks in Austin and Dallas areas. We understand that each residential property has unique security needs, which is why we offer our customers a range of different options.
Our residential locksmiths are experts in repairing and replacing traditional locking systems, as well as state-of-the-art technology, so you can rest assured that your home will be safe and secure once our team completes the job
Kinds of Keyless Entry Locks:
Our keyless entry locks include:
Keypad locks: These use a unique PIN to open the door. They work well for residential homes where multiple family members have their own code
Smartphone-controlled locks: The smartphone can be used as a remote control to open the door. These are useful for homes that require constant monitoring
Card-based locks: Cards or tags with RFID chips send a signal that opens the door without having to enter a PIN or turn a key. These types of keyless entry door locks are ideal for apartment buildings, allowing tenants easy access without the danger of lost or stolen keys
Why Keyless Lock Systems Are a Good Idea?
Keyless entry locks have many advantages over conventional locking mechanisms such as the following –
They provide higher levels of security as there is no risk of keys or combinations being lost or stolen.
They are also much easier to operate using keypads or swipe cards, which makes access more convenient for authorized users.
Many properties now prefer the high-tech look and appearance of modern digital lock systems in their overall design aesthetic.
They don't require you to carry around keys or remember individual codes. You just need to remember your code or use your biometric identifier.
They are more secure than traditional keys as they cannot be copied or tampered with in most cases.
They often allow you to control who has access and when they have access, making them good for business owners looking for extra security for their premises.
They give you more control over security measures such as alarms and CCTV systems.
Overall, keyless locks offer convenience, increased security, and the ability to monitor and control access to your property remotely. You can add keyless entry locks to most doors in your home or business.
They can be particularly useful when you have a lot of people coming and going — such as visitors, postm=en, children or cleaning staff. Adding a keyless entry to side doors (like garages) and other points of entry can also help prevent break-ins, as they eliminate traditional vulnerabilities like hidden keys under doormats.
For a complete range of keyless entry locks, contact WOW Locks today!
Fast & Efficient Keyless Entry Solutions:
We carry the best keyless entry locks for your sweet home in an efficient manner. Whether you want to secure a single door or multiple locations, we will be sure to find the perfect security system for you in no time.
Our Keyless Entry Solutions Include:
-Safes
-Locks
-Security systems
-Access control systems
-CCTV systems
Our residential locksmiths are highly trained and experienced in installing keyless entry systems of all brands and varieties. We understand that there is a huge difference between securing a home and securing an office space. That's why we offer customized services that are specific to your needs and budget.
Discover the convenience of keyless entry systems while enhancing your security today!
Why go for WOW Locks?
At WOW Locks, we put your safety at the heart of what we do. Our years of experience dealing and practicing with locks have allowed us to become a leader in Austin and Dallas area when it comes to locksmith services – whether residential, commercial, or automotive.
Our trained experts are our state-of-the-art training facility and are equipped with the necessary gear and technology to provide exceptional services on-site at flat-rate pricing.
Our clients love us for –
24/7 certified services
Quick response time
Competitive pricing
Knowledgable, experienced, and skilled experts
Satisfaction guaranteed
State-of-the-art equipment
High-security solutions
Top-notch product brands
Here, we are trusted by individuals and homeowners for our ultimate choice of keyless entry locks. We have been installing, replacing, and maintaining all kinds of locks for many years with the required expertise.
We stand by all our work, so you can rest assured that you are getting the best service for a competitive price!
Our doors are always open:
It can be hard finding a great locksmith service that you can trust. WOW Locks is the recommended company by many residents in Austin and Dallas area you need in your contacts list. Our 24/7 emergency locksmith services will help you to protect what you value most.
If you want to keep your home safe with keyless entry locks, we can help you select the right option and install it properly.
Or,
In case, you already have a smart lock system on your front door, you can program it so that it will automatically lock when you leave so that no one can enter your home while you are away. This can help you save money on your utility bills
One call does it all:
Simply give us a call at (844) 969-5625 for a quick response or Click Here to request a service online.