Install high-quality Deadbolts and increase your home security in Texas, Call us today!
The world is a dangerous place, and it's important to keep your home safe and secure. Perhaps you have an alarm system, but have you thought of a deadbolt installation?
Deadbolts are great for protecting your home, but they're not always the easiest thing to install. If you're looking for a professional deadbolt installation service in the Austin and Dallas area, look no further than WOW Locks!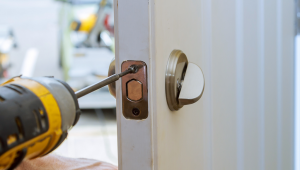 Our residential locksmiths have been installing and replacing deadbolts for years, and we know how to get it done right every time. We can even help you choose a high-quality deadbolt for your safety needs. There are a lot of options when it comes to choosing a new deadbolt, at WOW Locks, we're committed to helping our customers find the best possible solution to meet their needs.
Our team of experts will be happy to walk you through all of these options so that you can select a high-quality lock that meets your security needs without breaking the bank!
All you need to know about Deadbolt Installation:
A deadbolt is a type of locking mechanism that uses a metal bolt to secure a door. The bolt is inserted into the frame of the door, typically using a key or lever, and then locked into place. When you open the door, the bolt slides back into the frame, allowing you to enter or leave.
This type of keyless security technology comes in many different styles and designs, and they range from simple keyless entry systems to more sophisticated models that include fingerprint scanning technology or even Bluetooth capabilities.
Deadbolt installation can be done on any type of door, but it's most commonly used in residential settings. They are made up of two parts – an outer part called "dumbbell" or "lock body" and an inner part called "deadbolt".
The lock body contains all of the moving parts while the deadbolt is stationary and will not move unless it's under extreme pressure from an external source (such as an intruder trying to force its way in).
The most common deadbolts have a single-cylinder lock which requires only one turn of the key for opening and closing; however, there are also double-cylinder locks that require two turns – one for either side.
These are generally recommended because they're harder to pick or bump open than their counterparts with just one cylinder (although not impossible). Some deadbolt installations may even be equipped with three cylinders for maximum security against intruders who could pick them out with ease
Are Deadbolts safe?
Yes, no doubt about it!
As we know, Deadbolts prevent break-ins and without one, you're vulnerable. These locks make it much more difficult for burglars to break into your home – and can often deter them altogether.
Deadbolts are especially troublesome for intruders because they tend not to smash the door doorknob before breaking their way through. Deadbolted doors often take more time to break through due to the safety features of this lock that forces intruders to go a different route.
So, whether you need help installing an old-fashioned deadbolt or a high-tech smart deadbolt, we can help you out at WOW Locks. We offer 24/7 emergency service, so you can get the help you need when you need it most even on holidays or weekends.
Why go for WOW Locks?
At WOW Locks, we put your safety at the heart of what we do. Our years of experience dealing and practicing with locks have allowed us to become a leader in Austin and Dallas area when it comes to locksmith services – whether residential, commercial, or automotive.
Our trained experts are our state-of-the-art training facility and are equipped with the necessary gear and technology to provide exceptional services on-site at flat-rate pricing.
Our clients love us for –
24/7 certified services
Quick response time
Competitive pricing
Knowledgable, experienced, and skilled experts
Satisfaction guaranteed
State-of-the-art equipment
High-security solutions
Top-notch product brands
Here, we are trusted by individuals and homeowners for the choice of advanced security systems. We have been installing, replacing, and maintaining all kinds of deadbolt locks for many years with the required expertise.
We stand by all our work, so you can rest assured that you are getting the best service for a competitive price!
Our doors are always open:
It can be hard finding a great locksmith service that you can trust. WOW Locks is the recommended company by many residents in Austin and Dallas area you need in your contacts list. Our 24/7 emergency locksmith services will help you to protect what you value most.
Whether it's Deadbolt, Manual, Keyless, or high-tech lock, being there for our customer's security is the most rewarding part of our job. No job is too big for us!
We will address any of your security issues for deadbolts installation for your residential property. We offer property owners innovative security solutions to deter crime using the latest in lock technology.
As long as you have proper installation, this should remain simple to use for many years. If you find yourself in need of any help with deadbolt installation or repair services, get in touch with us today!
One call does it all:
Simply give us a call at (844) 969-5625 for a quick response or Click Here to request a service online.