Don't let a broken lock put your sweet home in danger. Contact us to get it fixed today!
Going wireless with a digital keypad system is a great way of securing your home as it allows you to customize the access for every person living in your house. Traditional keys may be reliable, but they can also be lost or stolen.
Electronic keypads offer several interesting features when compared to normal keys. These are a more advanced, secure way to keep your home safe.
With our wide selection of electric locks, you can remotely alert your family that you're on your way home, and then remotely lock the doors as soon as you arrive.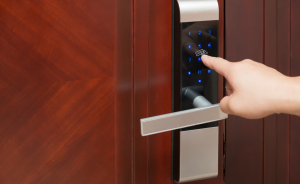 Primarily, electronic keypads typically require a four-digit code to open the door, although some can be configured with up to eight digits. The codes are usually programmed into the keypad itself before installation so it's not necessary for anyone else but you know what your code is supposed to be.
Features of an electronic lock to look for –
The basic features of an electronic lock include:
* Keypad — allows you to set up access codes to unlock the door.
* Ability to change and delete codes — it's important that you can easily change codes and delete them in the event of theft or loss of a key fob.
* Voice prompts — voice notifications can tell you if a code was accepted or rejected.
* Auto-lock and unlock — many electronic locks automatically lock or unlock when you get in range of the lock, so you don't have to worry about forgetting to secure your door.
* Access logs — track who entered or exited the building after hours.
Benefits of using Electronic keypads for front door:
Electronic keypads offer several interesting features when compared to normal keys including the following –
It offers more protection than manual locks because they use passwords to open the door.
They are very easy to use and offer quick access to homeowners.
You don't have to worry about losing keys or forgetting them at home.
They also allow users to change their passwords without changing their keys and provide quick access to locked areas without having to fumble with keys and locks.
These are also easy to install, which makes them ideal for homeowners who want to secure their homes without having to pay an expensive locksmith or install new doors and windows.
Get the security you need at WOW Locks:
Whether you need to set up a new digital security system or repair an old one, you can count on our skilled professionals to provide you with the best possible solution. At WOW Locks, we offer 24/7 services, which means you can call on us any time of the day or night whenever you need our help.
As soon as you contact us, we will arrive at your home in no time flat and set up the digital keypad lock in your home. You can choose from a wide range of digital security systems that are available in the market. Our locksmiths will help you to select the right system that suits your needs and budget. We use only high-quality materials for setting up electronic keypads in homes.
Proudly saying, WOW Locks is one of the most trusted names in this industry. Our locksmiths can help you with the installation and repair of your electronic keypad lock within a short period.
At WOW Locks, we understand that property owners want to ensure the complete safety and security of their families. This is why we offer the best digital security solutions in Austin and Dallas areas. Our locksmiths can install and repair different types of electronic keypads for your home.
We ensure your needs are met with ease as we use only the best quality digital locks from reputed brands on the market and can set up your electronic keypad lock in no time flat.
If you are looking for a reliable locksmith who can offer electronic keypad installation services, you should get in touch with our company.
Why go for WOW Locks?
At WOW Locks, we put your safety at the heart of what we do. Our years of experience dealing and practicing with locks have allowed us to become a leader in Austin and Dallas area when it comes to locksmith services – whether residential, commercial, or automotive.
Our trained experts are our state-of-the-art training facility and are equipped with the necessary gear and technology to provide exceptional services on-site at flat-rate pricing.
Our clients love us for –
24/7 certified services
Quick response time
Competitive pricing
Knowledgable, experienced, and skilled experts
Satisfaction guaranteed
State-of-the-art equipment
High-security solutions
Top-notch product brands
Here, we are trusted by individuals and business owners for the choice of electronic keypads and other security systems. We have been installing, replacing, and maintaining all kinds of advanced locks for many years with the required expertise.
We stand by all our work, so you can rest assured that you are getting the best service for a competitive price!
Our doors are always open:
It can be hard finding a great locksmith service that you can trust. WOW Locks is the recommended company by many residents in Austin and Dallas area you need in your contacts list. Our 24/7 emergency locksmith services will help you to protect what you value most.
Whether it's a smart lock, high-tech lock, or electronic keypads, being there for our customer's security is the most rewarding part of our job. No job is too big for us! We have been offering security solutions to the residents for several years now, so call us immediately if you are looking for the best digital lock setup services.
We will address any of your home security issues and provide you with the best digital lock system for your residential property. We offer homeowners, businesses, and apartment complexes innovative security solutions to deter crime using the latest in lock technology.
One call does it all:
Simply give us a call at (844) 969-5625 for a quick response or Click Here to request a service online.