Get Your Access System Repaired or Installed in the Next 24 Hours. Call Us for Assistance!
Businesses are growing continuously, and a workplace is a place that gives life to any business. Every workplace has a specific security system that is managed by the owners. But as the business grows, so does the need for enhanced safety and security.
One of the primary goals of any business shifting to a proper workplace is to enhance the safety of their employees or customers so that they feel comfortable and secure in that commercial property. For this, Access control systems are very secure locks that keep any business safe whether small scale or large scale.
Sounds safe, right?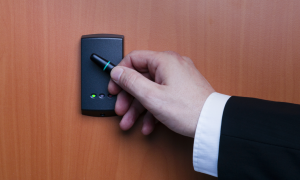 In such situations, it's vital to choose a reliable locksmith service in your local area that can provide effective solutions and not compromise on quality.
WOW Locks, is the way to go!
24/7 Reliable Access Control Systems Services in Texas:
At WOW Locks, we offer the best quality locks, installation, and repair services all at affordable prices in your local area. And as your trusted and local locksmith, our team will guide you to the ideal solution for your commercial building in an efficient way.
Our main aim is to safeguard your business activities to make them operational at all times and to accomplish this, we have a high-quality Access Control System addressing the business's specific safety needs. Also, we provide customized solutions for all our clients.
Whether you live in a condo or an apartment or own office space or a shop, we can provide lock services best suited to your needs and budget. We will send our expert technician to evaluate your property's specific needs and recommend the best security system accordingly.
Moreover, we provide 24-hour emergency locksmith services to help you get out of trouble quickly. Our expert technicians are trained to use the latest equipment in the industry to give you a high-quality service every time. With us, you can expect a fast response time and quick turnaround time so that you can get back to normalcy soon.
As your commercial locksmith, we provide top-notch Access control systems and have been serving different cities including Austin and Dallas areas for a long time now.
Call us anytime as we work on holidays and weekends as well!
Hassle-free entry & exit with Smart Access Control Systems:
It is always advised to keep a track of your visitors, employees, and contractors who enter and exit your office premises.
Earlier, office owners used to practice the traditional lock method and master key system this still works for small businesses with limited entry and exit doors but is not a practical solution for large-scale businesses. This system caused obstacles in having a track of physical keys & changing the entire lock mechanism.
However, with customary master key systems, there is no proper entry and exit audit trail for the businesses.
Access control system not only controls the access to limited and private areas but also scans the audit trails of the visitors involved by keeping e-track records of each entry and exit through the office doors. It becomes easier for businesses to find out the identity of burglars or suspicious visitors on the business premises during working or non-working hours both.
the identity of the particular or suspicious visitor (if any) during business hours and non-business hours
Importance of Access Control Systems:
The importance of Access Control System in Businesses:
1)    Trackability
2)    Controlled Entry & Exit through doors
3)    Incorporated access control system with security alarms
4)    Personal Identification Numbers (PINs) & Fingerprint Authentication System
5)    Audit Trails
6)    Man-hour reports
However, if you're a small-scale business owner, you can still practice the traditional master key system without having to spend much on advanced security systems.
Why go for WOW Locks?
At WOW Locks, we put your safety at the heart of what we do. Our years of experience dealing and practicing with locks have allowed us to become a leader in Austin and Dallas area when it comes to locksmith services – whether residential, commercial, or automotive.
Our trained experts are our state-of-the-art training facility and are equipped with the necessary gear and technology to provide exceptional services on-site at flat-rate pricing.
Our clients love us for –
24/7 certified services
Quick response time
Competitive pricing
Knowledgable, experienced, and skilled experts
Satisfaction guaranteed
State-of-the-art equipment
High-security solutions
Top-notch product brands
Here, we are trusted by many local businesses for the choice of Access control systems and other security systems. We have been installing, replacing, and maintaining such technologies for many years with the required expertise.
We stand by all our work, so you can rest assured that you are getting the best service for a competitive price!
Our doors are always open:
It can be hard finding a great locksmith service that you can trust. WOW Locks is the recommended company by many residents in Austin and Dallas area you need in your contacts list. Our 24/7 emergency locksmith services will help you to protect what you value most.
Whether you own or manage an office building, retail store, or any other type of business, our expert technicians can help you implement the most effective access control system to meet your needs.
No job is too big for us!
Undoubtedly, we are dedicated to providing the highest quality commercial access control systems at affordable prices. We will match or beat any competitor's price to save you time and money. Our commercial locksmiths have a vast knowledge of new technology and procedures to install them efficiently and cost-effectively.
 One call does it all:
Simply give us a call at (844) 969-5625 for a quick response or Click Here to request a service online.