Keep your home safe & secure with our top-notch Biometric lock, in Texas, Call Us for Assistance!
Do you know that a biometric door lock system is one of the most secure and efficient alternatives to traditional lock systems?
Yes, you heard it right!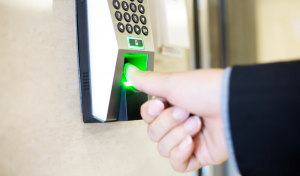 Such locks are highly used in residential environments limiting access to sensitive entries and ensuring protection against unwanted intruders or burglars.
Installing such advanced technology is an extremely reliable way to keep your sweet home safe at all times.
Besides the fact that they are very hard to breach, biometric locks can also prevent people from copying your keys or picking the lock. There is no way of using a copy key or breaking into a room that is protected with a biometric lock.
What Are Biometric Locks?
Biometric locks are a type of biometric authentication system, which are normally used to identify and limit access to certain areas. The access control is possible with the help of finger scanning or fingerprint readers that can easily be integrated into a wide array of locking systems and access control software.
In addition, visitors' identities are confirmed through fingerprint scans and certain other biological features. This way it makes people feel safer when entering restricted areas. This is because they know exactly who is inside the residential premises.
Why Should You Use Biometric Door Locks?
Biometric locks come with numerous advantages for both business owners and homeowners. Here are some of the most important benefits:
The main reason why people choose to invest in a biometric door lock system is that it provides increased security for their business or home. The advanced technology allows for the precise identification of authorized personnel that can gain access to certain parts of the building.
In comparison to electronic cards or passwords, fingerprints are unique and cannot be shared by others or forgotten by employees.
With a biometric door lock system, you will easily be able to monitor who enters and leaves specific areas at any hour of the day. The advanced technology also allows for the precise identification of authorized personnel that can gain access to certain parts of the building.
Protection against unauthorized access
The biometric door lock system provides a perfect way to secure your home or business against unwanted intruders. The system works by storing a series of biological features specific only to each person that has access to the room, area, or building.
The information will be stored in the lock mechanism, which will only allow access if the biological features match the ones previously stored in its memory. In this way, you can be certain that only authorized personnel will have access to your property.
A method that is impossible to duplicate.
Unlike keys and passwords, biometric data cannot be copied or easily guessed. This means you can benefit from maximum security for your home or business as well as for yourself and your employees.
Money savings on rekeying costs
Using biometrics means that you will no longer need to change locks if a key is lost or stolen. This protects you from any rekeying costs and also provides additional protection from home invasions since there are no keys outside of the house to pick up or copy.
Biometric or Smart Lock Solution at WOW Locks:
With the growing popularity of smart home technology and the convenience of biometric locks, you may be wondering how biometric locks would make sense for your residential property.
Let us answer your questions and help you determine whether biometric locks or smart solutions would make sense for you. At WOW Locks, we can plan, design, install and implement an internal security system for the safety of your family members, including the use of biometric locks that provide convenient access to all areas in a property at all times and those who manage the security and access to areas using biometric locks.
Our team collaborates with your family to determine which areas of your home could benefit from upgrading to biometric locks, and we use our extensive knowledge of how this technology works to help you find the right solution for your needs.
If you are looking for additional security that biometric locks provide, trust our experts in installing and servicing this high-tech security option.
Why go for WOW Locks?
At WOW Locks, we put your safety at the heart of what we do. Our years of experience dealing and practicing with locks have allowed us to become a leader in Austin and Dallas area when it comes to locksmith services – whether residential, commercial, or automotive.
Our trained experts are our state-of-the-art training facility and are equipped with the necessary gear and technology to provide exceptional services on-site at flat-rate pricing.
Our clients love us for –
24/7 certified services
Quick response time
Competitive pricing
Knowledgable, experienced, and skilled experts
Satisfaction guaranteed
State-of-the-art equipment
High-security solutions
Top-notch product brands
Here, we are trusted by individuals and homeowners for the ultimate choice of smart security systems. We have been installing, replacing, and maintaining advanced locks for many years with the required expertise.
Our doors are always open:
It can be hard finding a great locksmith service that you can trust. WOW Locks is the recommended company by many residents in Austin and Dallas area you need in your contacts list. Our 24/7 emergency locksmith services will help you to protect what you value most.
\No job is too big for us!
When you partner with us, you're not just getting a company that will install biometric locks—we'll work with you to design a complete internal security system so that every member of your family can live feeling safe, secure, and empowered in their own home.
One call does it all:
Simply give us a call at (844) 969-5625 for a quick response or Click Here to request a service online.