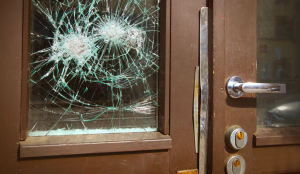 Stay safe & secure with our Burglary damage repair solutions in Texas, Call Us for Assistance!
Burglary, vandalism, or any other break-in can be a scary experience. Not only does it risk the owner's safety, but it also hampers the property and brings you into grave situations. Burglary victims often experience grief, anger, fear, and anxiety.
Whether it's damaged doors or locks, property defacements burglary, or vandalism, not only does it risk the owner's safety, but it also hampers the property and brings you into grave situations.
Victims feel violated as they realize that a stranger invaded their private space, rifled through their belongings, and took what they wanted. Don't be a victim!
Simply improve your home's safety and install security systems from the most renowned and secured residential locksmith WOW Locks in Texas. Call us for burglary damage repair solutions and solve your problems!
Your safety matters at WOW Locks:
WOW Locks is a leading locksmith company that is specialized in handling burglary damage repair to ensure that your family and other important things are safe and sound. With years of experience, we are delivering top-notch services for our customer's protection against unwanted intruders.
Our skilled technicians provide assistance for all types of burglaries for your residential properties. We understand how irritating it is for you to get hold of such a situation where your sweet home has been burglarized by thieves, hence we ensure immediate help to protect your business from further damage or theft.
We have the latest tools and equipment to unlock all types of property locks and make new keys so that you have access to your home again with a big smile 🙂
Importance of Burglary Damage Repair for your safety:
Burglaries happen every day in America. Unfortunately, the effects can be devastating to those who become victims. If you've been burglarized, it's important to know how you can get your home repaired and back to normal as soon as possible.
Benefits of Burglary Damage Repairs include –
– Your property is repaired quickly and professionally
– You get peace of mind knowing that you're safe now
– Get back to normal life back without worrying about the next burglary taking place
As you can see, burglary damage repair is important for anyone whose property has been violated in such a manner. By making sure your home is protected from future possible break-ins, you can get things back to normal as it was before the burglary took place.
What Do You Get?
24/7 emergency service
Total repair satisfaction
Free quotes on all jobs
Replacement of old locks
High-quality equipment and products
What services do we offer for Burglary damage?
For burglary damage repair, call our experts for a fast response. We serve all areas of Austin and Dallas in Texas where we provide 24/7 emergency services. If your home has become a victim of a break-in, you can rely on WOW Locks to remake all damages.
Most intruders invade homes from the entry gate, which need to be repaired at the first place. To fix all door deformations that have been caused by break-ins and burglaries, Get in touch today!
We can repair damages caused to the doors, and frames and can easily repair and replace any lock that has been damaged during breakage. We are the top choice for providing seamless and reliable burglary damage repair services.
In fact, what makes us stand apart is our best of trained professionals and our high-end security system!
Why go for WOW Locks?
At WOW Locks, we put your safety at the heart of what we do. Our years of experience dealing and practicing with locks have allowed us to become a leader in Austin and Dallas area when it comes to locksmith services – whether residential, commercial, or automotive.
Our trained experts are our state-of-the-art training facility and are equipped with the necessary gear and technology to provide exceptional services on-site at flat-rate pricing.
Our clients love us for
24/7 certified services
Quick response time
Competitive pricing
Knowledgable, experienced, and skilled experts
Satisfaction guaranteed
State-of-the-art equipment
High-security solutions
Top-notch product brands
Here, we are trusted by individuals and homeowners to get the ultimate solution for burglary damage repair for residents' safety. We have been installing, replacing, and maintaining all kinds of locks for many years with the required expertise.
We stand by all our work, so you can rest assured that you are getting the best service for a competitive price!
Our doors are always open:
It can be hard finding a great locksmith service that you can trust. WOW Locks is the recommended company by many residents in Austin and Dallas area you need in your contacts list. Our 24/7 emergency locksmith services will help you to protect what you value most.
Whether you need replacement of broken locks, existing lock up-gradation, lock rekeying, or lock installation, our residential locksmiths will address the security issues for your residential property thoroughly.
Our team can help with expert burglary damage repair. They will supply new door, cabinet, and drawer locks, and change your old keys to a new safe lock system so the intruder can never return. Don't delay! Get in touch with WOW Locks today.
One call does it all:
Simply give us a call at (844) 969-5625 for a quick response or Click Here to request a service online.