Secure your workplace with Automatic Door Closers in Texas today, Call us for assistance!
Automatic door closers allow the doors to swing freely open and then shut automatically. They are commonly spring-loaded!
Many overhead door closers are adjustable with a set-closing speed. These are advanced pieces of technology that allow them to lock or unlock any type of door remotely without the need of carrying physical keys.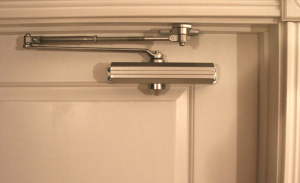 This feature allows users to slow down the door's momentum once it is approaching the closed position. Many times, automatic door closers are best for medium to heavy traffic areas. Most retail stores can no longer survive with the high cost of utility bills. With our line of door closers, you will be able to save from 50% to 70% on your annual cooling and heating bills.
There are a lot of things to consider when selecting the perfect automatic door closer for your needs. Important factors to take into consideration are:
Weight and size of the door
Where the door is located
Automatic door closers provide greater control over the strength and speed of door closing. In fact, large-scale storage units, factories, and warehouses often use this advanced technology, also. A jammed or poor automatic door sometimes results in lower business revenues.
How does this device work?
In essence, automatic door closers operate in a certain manner that has a wide range of sensors that can detect any motion. Such security systems are cost-effective and work in essentially the same way by storing the energy used to open the door within a compression system of spring and releasing the energy at a certain rate.
When the door is released, the closer spring releases the tension and shuts the door. While automatic door closers may not be for everyone, they ultimately help prevent the slamming of doors and within several different models, you can adjust the speed of this.
Reasons to use these devices:
Automatic door closers are becoming increasingly popular in many domestic homes because they offer a number of key benefits that include –
Ability to control the speed of slamming of the door
Ease of how the door closes and its smoothness
Maintains heating and cooling principles against wind & weather, droughts, and heat loss.
Reduces insurance costs and heating costs
No more manual opening of the door
High tech security without any physical touching ensures full hygiene
Minimizes energy bills as they function remotely
Entry & exits are hassle-free and ensure a lot of conveniences, especially for children, older people, or people with limited mobility.
Prevents fire hazards from penetrating passages
Count on our Automatic Door Closer Services:
At WOW Locks, we provide automatic door closers installation and repair services to maintain proper security and safety at your commercial properties. We have a team of highly trained and experienced professionals that can help you get the right kind of automatic door closers for the doors in your office, retail store, warehouse, or any other commercial property.
Our technicians are available 24 hours a day so that they can reach you at any time of the day or night in case of emergencies.
As your reliable commercial locksmith partner, we provide security solutions for all types of businesses whether you have small-scale operations or large-scale operations. In order to prevent door slamming at your office having frequent visitors, our team ensures that the doors close properly and automatically with the help of automatic door closers.
At WOW Locks, any risk related to entrapment, collision, and drawing in is completely taken care of with full safety measures.
A Quick Tip:
Selecting an automatic door closer is not simply about which design is the best or which type of finish looks the most attractive. It involves an understanding of how these products function and what they are capable of providing, based on your needs and the needs of your building.
Why go for WOW Locks?
At WOW Locks, we put your safety at the heart of what we do. Our years of experience dealing and practicing with locks have allowed us to become a leader in Austin and Dallas area when it comes to locksmith services – whether residential, commercial, or automotive.
Our trained experts are our state-of-the-art training facility and are equipped with the necessary gear and technology to provide exceptional services on-site at flat-rate pricing.
Our clients love us for –
24/7 certified services
Quick response time
Competitive pricing
Knowledgable, experienced, and skilled experts
Satisfaction guaranteed
State-of-the-art equipment
High-security solutions
Top-notch product brands
Our doors are always open:
It can be hard finding a great locksmith service that you can trust. WOW Locks is the recommended company by many residents in Austin and Dallas area you need in your contacts list. Our 24/7 emergency locksmith services will help you to protect what you value most.
No job is too big for us!
WOW Locks has been helping businesses in local areas to solve issues like these for years with our high-quality automatic doors closers. Our team of professional and skilled technicians can handle door closers no matter what size your business is. They're equipped with industry-standard practices and top-notch products to cater to all of your security needs.
Furthermore, we have handled small level to significant level handle types with the best industry practices and ensure top-notch products in Austin and Dallas area with affordable rates. Our commercial locksmiths have a vast knowledge of new technology and procedures to install them efficiently and cost-effectively.
 One call does it all:
Simply give us a call at (844) 969-5625 for a quick response or Click Here to request a service online.
We'll answer all of your questions and schedule a consultation with you!