Get the most reliable Deadbolt Locks to secure your workplace, Call us for professional assistance!
We all have valuables that are dear to us. Some of them are even irreplaceable. Be it an office, factory, hospital, school, or any commercial property, securing the valuables within any building requires utmost effort.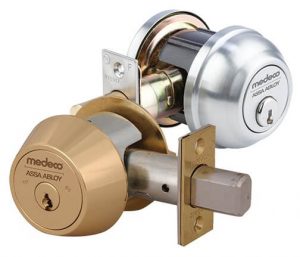 Several lock types of different strengths are used by people to protect their essentials. The design, type, and strength of locks used vary according to the situation. The locks used today ensure better protection when compared to the locks used in the early 1800s.
That's where Deadbolt locks come in!
All you need to know about Deadbolt Locks:
A deadbolt lock (also called deadlock) is a type of lock that can be fitted to various doors, windows, and cabinets. Deadbolts are much stronger than other locks used in offices and are usually installed on exterior doors.
Deadbolts are made up of three components – a latch, a bolt, and a strike plate. The bolt is pushed through the door when it is locked, which means that the only way to open the door is by using a key. Spring latch locks can be easily opened with just a plastic card, so it is important to have additional locks on your doors.
This type of security system ensures more protection than most other types of locks because they cannot be forced open with credit cards or any other objects.
Deadbolt locks are the most secure and effective locking mechanisms available in the market today. They come in several designs, types, and strengths to assure top-notch safety.
What's the best part?
These also cannot be easily kicked open when compared to other types such as doorknobs.
Types of Deadbolt locks –
A deadbolt lock comes in two basic types, single cylinder, and double cylinder.
A single cylinder deadbolt has a keyhole on the exterior side of the door and an interior handle, whereas a double cylinder has keyholes on both sides of the door. These locks offer more security, however, they need to be used with caution as they require keys on both sides to open them. If there were an emergency situation it would not be possible for you to exit quickly if you had double cylinder deadbolts installed.
One of the primary differences between these two is that the single cylinder deadbolt lock can be manipulated with a key from the outside and a key or turn knob from the inside. On the other hand, double cylinder deadbolts require keys on both sides to open them.
Why do you need Deadbolt locks?
A lot of people wonder why they need deadbolt locks when they can easily buy a regular lock that is also strong enough to withstand a break-in attempt. Please note that a regular lock might be strong enough but it cannot prevent unauthorized entry.
Well, there are many advantages to choosing a deadbolt lock. Here are just some of them:
The unique locking mechanism gives you the utmost protection against forceful physical attacks.
Standard locks may be forcibly picked or can be opened through a key or knife as they operate on a spring mechanism. Whereas the deadbolt locks are tough to break in.
It requires a lot of time to break in so it leaves the decision to the intruder whether to break into the office or not as this risks him being caught.
A Quick Tip:
There are three key features that any good quality deadbolt lock should have:
The bolt must comprise of hard steel and should extend to a 1-inch diameter
The collar of the cylindrical locks must properly be tapered and be free-spinning so that it is difficult to grip it with pliers or wrenches.
The connecting screw must also comprise of strong steel and be present inside as the screw heads must not be visible
Why go for WOW Locks?
At WOW Locks, we put your safety at the heart of what we do. Our years of experience dealing and practicing with locks have allowed us to become a leader in Austin and Dallas area when it comes to locksmith services – whether residential, commercial, or automotive.
Our trained experts are our state-of-the-art training facility and are equipped with the necessary gear and technology to provide exceptional services on-site at flat-rate pricing.
Our clients love us for –
24/7 certified services
Quick response time
Competitive pricing
Knowledgable, experienced, and skilled experts
Satisfaction guaranteed
State-of-the-art equipment
High-security solutions
Top-notch product brands
Our doors are always open:
It can be hard finding a great locksmith service that you can trust. WOW Locks is the recommended company by many residents in Austin and Dallas area you need in your contacts list. Our 24/7 emergency locksmith services will help you to protect what you value most.
No job is too big for us!
At WOW Locks, protecting your employees and keeping your workplace safe is our number one priority. That's why we are experts at setting up deadbolt locks with brand new keys so that you can get on with your life and stop worrying about security.
If you find that the deadbolt lock just isn't working properly, don't worry. You're probably not doing anything wrong—you could just have a distorted tailpiece or misaligned hinges. But don't worry, we can help! Our commercial locksmiths know exactly what to look for when it comes to getting your deadbolt locks back in working order.
We as a team have a vast knowledge of new technology and procedures to install them efficiently and cost-effectively.
 One call does it all:
Simply give us a call at (844) 969-5625 for a quick response or Click Here to request a service online.
We'll answer all of your questions and schedule a consultation with you!