Avail reliable and efficient High-Security Grade 1 Lock in Texas, with WOW Locks today!
Do you have an office? Are you looking for a locksmith to install high-security locks for your property? Your search ends with us. WOW Locks is your one-stop solution for all your locksmith needs. We offer a wide range of varieties of commercial, industrial, and residential locksmith services.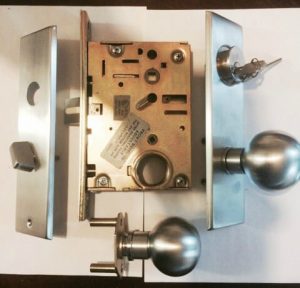 Having a high-security locking system is of extreme importance in the modern world to keep your property safe from burglars and thieves. But how can you know which system is right for you? With so many available options and so much information circulating, it can be difficult to understand.
WOW Locks provides a step-by-step guide to help you decide which high-security grade 1 lock is best for you. It's time to clarify what exactly the term "high security" means.
What are High-Security Grade 1 Locks?
High-security locks are divided into three categories: grade 1, grade 2, and grade 3. The difference between these locks lies in their physical and technical characteristics as well as their performance. Grade 1 is the highest quality lock, followed by grade 2 and then grade 3 as the lowest quality lock.
Such a lock offers multiple advantages when installing them in your home or workplace. What makes these high-security locks truly unique is their ability to completely stop unauthorized entry, even if someone tries to pick or hack the lock system with specialized tools.
High-security grade 1 locks are advanced and high-quality locking systems that are designed with durable materials like steel that offer immense resistance to forced entry and burglary.
Forcible entries
Burglary
Lock picking
Decoding attacks
From High-security grade 1 locks to other high-end lock services, we cover every aspect of the safety of your valuable property with full efficiency at WOW Locks.
Enhance your business security with WOW Locks:
When you speak of securing the workplace with a High-security grade 1 lock, WOW Locks tops the list of most reliable and affordable locksmith services in the Austin and Dallas areas and the surrounding areas day and night.
We as a reliable locksmith service provider are always ready to offer you grade 1 commercial locksmith services which will keep your possessions free from theft or burglary in any way. It provides additional protection from burglars who try to break in through doors or windows etc.
We are working in this field for years and we understand the need for reliable security systems for your office or business. Here, we understand the importance of high-quality locks and ensure that you get exactly what you need. You must pick the right lock for your commercial property to prevent theft or break-ins.
What's so special about High-Security Grade 1 Locks?
There are several benefits to using Grade 1 locks in your home or business:
They offer top-of-the-line security features that are more difficult to pick or tamper with than other grades of locks. This also means that they stand up better to brute force attempts by burglars as well as weather conditions.
They can withstand more wear and tear than other types of locks and can last longer because they are built to last longer than most other types of locks. You might still need to replace them after 10-12 years, but this is better than the average life span of other locks which is around 6 years at best.
Since these locks are meant for commercial establishments, they have to pass extreme testing before being sold. This ensures that the security level of these locks is maintained at all times.
Why go for WOW Locks?
At WOW Locks, we put your safety at the heart of what we do. Our years of experience dealing and practicing with locks have allowed us to become a leader in Austin and Dallas area when it comes to locksmith services – whether residential, commercial, or automotive.
Our trained experts are our state-of-the-art training facility and are equipped with the necessary gear and technology to provide exceptional services on-site at flat-rate pricing.
Our clients love us for –
24/7 certified services
Quick response time
Competitive pricing
Knowledgable, experienced, and skilled experts
Satisfaction guaranteed
State-of-the-art equipment
High-security solutions
Top-notch product brands
Here, we are trusted by many local businesses for our ultimate choice of High-security Grade 1 locks. We have been installing, replacing, and maintaining these locks for many years with the required expertise.
We stand by all our work, so you can rest assured that you are getting the best service for a competitive price!
Our doors are always open:
It can be hard finding a great locksmith service that you can trust. WOW Locks is the recommended company by many residents in Austin and Dallas area you need in your contacts list. Our 24/7 emergency locksmith services will help you to protect what you value most.
Our commercial locksmiths have real-time experience and are no strangers to fixing High-security Grade 1 locks with full professionalism. They will quickly arrive at your office location to fix the issue with the necessary tools and equipment to do the job efficiently.
In case, you are looking for a replacement for your profile cylinder lock, WOW Locks has a huge variety of options for you. We offer world-class solutions for your security needs and ensure peace of mind for all our clients. Our catalog includes multiple models and brands of High-security Grade 1 locks that will suit all your security requirements.
We can also help you by providing a master key for all the locks installed in your workplace so that you can use different key duplicates for each lock at any given instance of time without any hassle.
One call does it all:
Simply give us a call at (844) 969-5625 for a quick response or Click Here to request a service online.