Keep your Office safe & secure with our top-notch Panic bars/ Push bars 24/7, Call Us for Assistance!
In times of crisis, there are some basic instincts that just kick in. The first is the flight—we immediately seek a way to escape danger.
It's totally natural to want to get yourself to safety in an emergency situation, and it's what we all should strive for. But when you're in a public building with lots of other people—especially if you're responsible for them in any way—it can be a challenge to help everyone evacuate quickly and safely.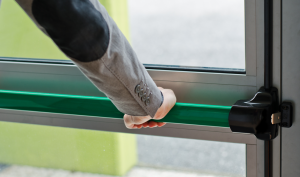 It's an awful, helpless feeling—and it's one that commercial buildings have a responsibility to help their employees and customers avoid.
That's where panic bars come in – just quick exit and peace of mind!
These handy tools allow you to exit a building quickly without needing keys or knowledge to operate them. All you have to do is push and you're out!
What is Panic bar/ Push bar and how does it work?
Just imagine – You're racing down the hall, the alarm has gone off and you have to get out, quick! Panic is setting in as you try to figure out how to open the door.
Then you remember: all doors that can be exited through are equipped with panic bars! Just push on it and you're out of there!
But wait…how do panic bars or push bars even work?
Panic bars are flat, horizontal bars attached to the inside of the doors. They unlock the door for a fast exit, even if the door opens outwards. When you push on these bars, they retract a latch mechanism, allowing for quick release.
In addition to making sense of panic situations, these kinds of doors are also ADA-compliant for handicapped usage. When used in conjunction with commercial deadbolt locks, panic bars can easily be used as part of an anti-theft system as well.
With a panic bar installed on your public-facing doors, though, you can help ensure the safety of your customers and employees by making fast egress possible for all involved. This makes it easy for anyone who needs to use the door to exit quickly while keeping the door locked and secure when not in use.
If you need help installing or repairing panic bars or push bars on your existing doors, you can rely on the professionals at WOW Locks to lend their expertise!
24/7 Emergency Exit Solutions at WOW Locks:
At WOW Locks, we offer panic bar installation services and can also repair existing devices if they are not working properly. We know what goes into installing these devices correctly so they function as intended during an emergency situation: with just one quick push, your door will be opened automatically and all occupants will be able to escape quickly!
If you're in a situation where you need to get out of a commercial building, we can help. Our team specializes in the installation, repair, and replacement of commercial panic bars so that people like you can leave a building quickly and safely in the event of an emergency.
Here, we as a team understand that business owners want to make sure their buildings are as safe as possible for their employees and customers. We also know that in the case of an emergency, time is of the essence—and you need to be able to leave the building as quickly and easily as possible to protect yourself from danger.
As your reliable commercial locksmith partner, we will work with you to find appropriate panic bars for your business and offer high-quality commercial lock solutions at fair prices.
Moreover, we provide 24-hour availability for installations at any time of day or night, we are working on even holidays or weekends!
Why go for WOW Locks?
At WOW Locks, we put your safety at the heart of what we do. Our years of experience dealing and practicing with locks have allowed us to become a leader in Austin and Dallas area when it comes to locksmith services – whether residential, commercial, or automotive.
Our trained experts are our state-of-the-art training facility and are equipped with the necessary gear and technology to provide exceptional services on-site at flat-rate pricing.
Our clients love us for –
24/7 certified services
Quick response time
Competitive pricing
Knowledgable, experienced, and skilled experts
Satisfaction guaranteed
State-of-the-art equipment
High-security solutions
Top-notch product brands
Our doors are always open:
It can be hard finding a great locksmith service that you can trust. WOW Locks is the recommended company by many residents in Austin and Dallas area you need in your contacts list. Our 24/7 emergency locksmith services will help you to protect what you value most.
No job is too big for us!
Panic bars or push bars can be easily installed on the emergency exit door of a commercial building such as a school, hospital, or office. They're great for high-traffic areas, but they can also be installed on any other door. If you want to install or replace panic in your commercial property, call or visit us now.
Undoubtedly, we are dedicated to providing the highest quality panic bars or push bars at affordable prices. We will match or beat any competitor's price to save you time and money. Our commercial locksmiths have a vast knowledge of new technology and procedures to install them efficiently and cost-effectively.
 One call does it all:
Simply give us a call at (844) 969-5625 for a quick response or Click Here to request a service online.
We'll answer all of your questions and schedule a consultation with you!