Improve home security with peephole installation in Texas today!
Are you one of the few homeowners who still do not have a peephole installed in your door? In recent times, door-knocking surprises are increasing, which is why its importance has gained popularity. Installing this Gunsight Peephole in your door helps you identify visitors even as they are at the front door, resulting in added security and peace of mind.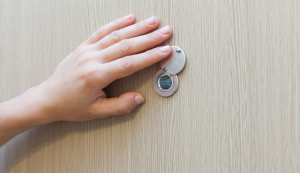 Whether you're away on vacation and you're expecting someone to stop by your home, or you're expecting a package to be delivered to you, having peep sights installed on your door is an easy, cost-effective way to feel safe and secure.
What exactly is a Peephole?
A peephole commonly called a 'Door viewer' is a small piece of glass on your main gate that you can install where no one can see it. It is a low-tech, simple solution to protect yourself from an unwanted visitor or potential home invader. Primarily it allows you to see who's on the other side of the door before opening it.
No matter where you live, a peephole is a must-have – especially in big cities. A quick peek at your front door can go a long way to help keep you safe.
If you're like most homeowners, you already have deadbolts and reliable window locks. And most likely, your home has a doorbell. If it doesn't, get one as soon as possible. Simply put: don't open the door unless you know who's on the other side. Many of our homes have windows that allow easy viewing of people outside – front and back. Yet many of our homes do not have peepholes!
Don't be a victim, get in touch with WOW Locks today!
WOW Locks, a name that stands for quality, provides you with different types of peephole products. Here, the process of peephole installation is quite easy, safe, and quick. It might be a solution for home-alone situations, whether for kids, elderly adults, or anyone who can see through before opening the door.
We can talk you through the process, and help you to decide if this would be a good option for your home. We take measurements before installation and make sure it fits perfectly right on your door!
Advantages of having Peep sight on the door:
While the benefits of peepholes and peephole technology are not always visible, it is still something it is important to consider when purchasing a new home, remodeling an existing one, and when protecting one's family.
Let's take a look at a few reasons why peephole installation does more than just let you see who's knocking:
You'll Have Better Control – You can see who is at the door before you open it.
It Can Provide Peace Of Mind – Sometimes seeing a person's face while they are outside your front door can help relieve stress.
You'll Be More Secure And Up To Date – Older homes that don't have peepholes may look a little less secure than homes with updated hardware that includes peepholes.
Your Home Will Appear More Inviting And Welcoming – Having a peephole will help make your home more inviting and welcoming rather than seeming unwelcoming or suspicious without one.
You Won't Miss Anything From Inside Your Home – There is nothing like peeking out the window on a cold day to see the postman has left a package on your porch only to find there is no way of getting to it without dressing properly or stepping outside in the cold weather.
It ensures convenience – Peephole technology offers a sense of security and peace without having to leave your home.
Why go for WOW Locks?
At WOW Locks, we put your safety at the heart of what we do. Our years of experience dealing and practicing with locks have allowed us to become a leader in Austin and Dallas area when it comes to locksmith services – whether residential, commercial, or automotive.
Our trained experts are our state-of-the-art training facility and are equipped with the necessary gear and technology to provide exceptional services on-site at flat-rate pricing. As they are mobile and situated strategically across town, they can reach you within no time.
Our clients love us for –
24/7 certified services
Quick response time
Competitive pricing
Knowledgable, experienced, and skilled experts
Satisfaction guaranteed
State-of-the-art equipment
High-security solutions
Top-notch product brands
Here, we are trusted by individuals and homeowners for top-notch security systems just like peepholes. We have been installing, replacing, and maintaining all kinds of door viewers for many years with the required expertise.
We stand by all our work, so you can rest assured that you are getting the best service for a competitive price!
Our doors are always open:
No one likes to feel like their home is an insecure place to be in. Getting a peephole installed is the best thing you can do for yourself, your family, and business security. At WOW Locks It's our job to provide you with top-quality peephole installation at competitive prices and fast service.
Here, we believe that there is absolutely no reason for you to pay crazy amounts for simple problems such as installing a peephole. In most cases, you can get the job done at a significantly lower price if you just wait for us to arrive and fix it!
Our residential locksmiths will make an entrance pollution check before the installation. They will help you determine the perfect location for the peephole to be put in and we will do pressure and tool tests on parts.
If you are looking for peephole installation, contact us immediately, 24/7. We will reach you as fast as possible without fail in no time.
One call does it all:
Our friendly and highly accredited locksmiths will undertake any peephole installation job you require like simple armored and working peephole.
Simply give us a call at (844) 969-5625 for a quick response or Click Here to request a service online.