Choose the right lock for your property in Texas, Get in touch today!
You will want to find the best locks for your doors. Though there are so many different styles of locks that can be used, it can still be hard to know what is best for your home so that you know that you are prepared in the event of any burglary.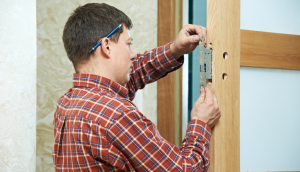 There are all types of locks available, including deadbolts, chain locks, and combination door handle locks. Some of these locks require a key while others do not. When it comes to lock installation on your doors, you must make sure you choose the right one that is properly installed by experts who have experience with this process.
That's where WOW Locks comes in!
Lock Installation made easier at WOW Locks:
The installation of a new lock is never easy, and it can be extremely frustrating when you're unable to get the lock you want to work with your door. Even professionals often struggle with this aspect of the job, and it can take several tries before perfection is achieved.
So if you're working on a door that's still new or that has never had a lock fitted, it's probably the time to call us for lock installation. We understand that you want to be able to secure your home, but we also want to help you avoid making the mistake of thinking that purchasing a lock is the only step towards peace of mind.
Looking for a simple door lock fitting or a more extensive installation of complete door entry systems? You are at the right place!
At WOW Locks, our professional mobile locksmiths are highly skilled, knowledgeable, and trained in up-to-date lock installation practices. We'll complete your installation with minimal disruption to you or your family, and make sure to clean up any mess before we head out the door.
We're available evenings and weekends, at no extra cost. With the right kind of lock installation, you can have proper functionality and the reliability of knowing it will last.
Better Security and Unmatched Services at your doorstep:
At WOW Locks, we provide a variety of locksmith services for home, auto, and business. Whether you need an extra key made for your home or want to replace the lock on your car door, we are here to serve you.
Here, we offer a range of state-of-the-art locks and hardware products where our experienced team also loves taking on larger challenges such as
High-security lock installation
Master keying systems
Key duplication services
Rekeying your existing locks
Emergency lockout solutions
Panic devices
Lock Replacement
Lock Repair
If you need a service that you don't see listed here, call us today at (844) 969-5625, and we'll work together to make it happen.
With us, you can rest assured that it is installed correctly and with no potential security problems. Our professionals are trained to find the best location for the lock, so it is convenient for you and does not cause a potential security risk.
But don't worry, we are here to save you time and frustration, having our skilled security specialists install your lock will give you the assurance it will be done correctly.
Why go for WOW Locks?
At WOW Locks, we put your safety at the heart of what we do. Our years of experience dealing and practicing with locks have allowed us to become a leader in Austin and Dallas area when it comes to locksmith services – whether residential, commercial, or automotive.
Our trained experts are our state-of-the-art training facility and are equipped with the necessary gear and technology to provide exceptional services on-site at flat-rate pricing. As they are mobile and situated strategically across town, they can reach you within no time.
Our clients love us for –
24/7 certified services
Quick response time
Competitive pricing
Knowledgable, experienced, and skilled experts
Satisfaction guaranteed
State-of-the-art equipment
High-security solutions
Top-notch product brands
Here, we are trusted by individuals and business owners to supply, repair, replace and install locks, windows, doors, and other security systems. We have been installing, replacing, and maintaining all kinds of locks for many years with the required expertise.
We stand by all our work, so you can rest assured that you are getting the best service for a competitive price!
Our doors are always open:
It can be hard finding a great locksmith service that you can trust. WOW Locks is the recommended company by many residents in Austin and Dallas area you need in your contacts list. Our 24/7 emergency locksmith services will help you to protect what you value most.
No issue is too big for us! We will address any of your locked door problems and give you viable and affordable lock installation solutions. We offer homeowners, businesses, and apartment complexes innovative security solutions to deter crime using the latest in lock technology
Whether it's Deadbolt, Mortise Deadbolt, or High tech locks, being there for our customer's security is the most rewarding part of our job.  If you are looking for lock installation, contact us immediately, 24/7. We will reach you as fast as possible without fail in no time.
One call does it all:
Our friendly and highly accredited locksmiths will undertake any lock repair or installation job you require, from simple door lock fitting details to the installation of complete door entry systems.
Simply give us a call at (844) 969-5625 for a quick response or Click Here to request a service online.